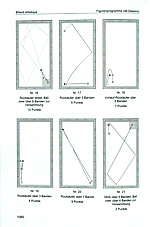 Enzyklopädie des Billardsports

Haase, Dieter / Weingartner, Heinrich Language: German
3 Books ISBN: 978-3-200-01489-3
In cooperation with Kurt Dahlhaus, Manfred Hekerle, Peter Stöger
1853 pages - 2667 pictures/graphics. Three volumes cover more than 1900 tournaments, describing the World and European Championships as well as the national German and Austrian Championships, from the very beginning in 1903 to the end of 2008. The centre of the authors` research was the Billiards Museum in Vienna and the important libraries of Europe und the USA. But there are also essential contributions from experts from all over the world. The index of players and places of tournaments helps the reader to find any information quickly. The authors have tried to present a basic work on the development of Carom sports.
The price for the books: €148,- without postage. Order from:
Dieter Haase (Germany) Fax: 0049/(0)561/3164862 email: haase@uni-kassel.de

In this work you will also find all figure-programs played - ever.
From 1931 until the actual practiced 100-figure-program.
All graphics made by Manfred Hekerle.