The inscriptions:
This time Turkey and Belgium missed the chance to have more participants, they only inscripted 3 players.
The lucky ones are Clement and Grewatsch, so France and Germany got an extra place.
7 figures?
The changement to sets with 7 figures neither was decided with players nor with the international players commission.
In october 2015 there was a discussion with the players commission with a lot of promises, nothing came true.
some interresting facts:
Best match: 80,714%
(Jean Reverchon in the 1/8-final against Eric Daelman)

Best set: 100%
7 out of 7 figures: Eric Daelman, Sergio Sanchez, Walter Bax and Kevin Tran
6 out of 6 figures: 3 times Walter Bax (two times in the final)
also Eric Daelman, Kevin Tran, Werner Grewatsch, Jop de Jong, Marvin Heinrich and Jordi Oliver
5 out of 5 figures: Manfred Hekerle, Jop de Jong(2x), Sander Jonen, Jordi Oliver
Highrun:
85: Walter Bax in the final match
73: Sergio Sanchez
60: Eric Daelman
59: Jop de Jong
58: Walter Bax
57: Serdar Gümüs
55: Jean Reverchon, Kevin Tran and Walter Bax
52: Werner Grewatsch
50: Jop de Jong
new european record:
Since the new "and much better" system is handled there is now an new - negative - european record:
Thomas Ahrens was the victim: At this EC he played in total: 17 figures.
Can this be a official average? Of course not.
National badge?: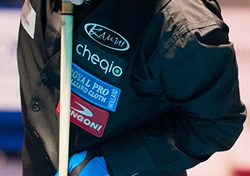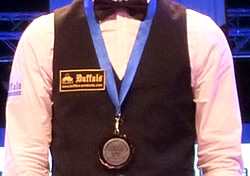 For which country these players have started?