In memoriam Gert Tiedtke
November 17th, 1922 - July 23rd, 2021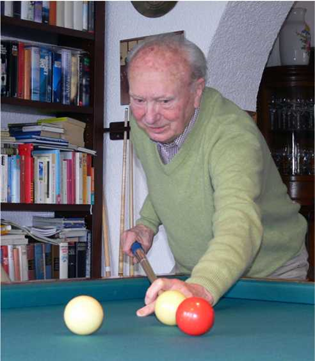 Three weeks ago Gert Tiedtke died in Bendorf at the age of 98, one of the last great pioneers of German carom billiards. Our condolences go to his family and friends, to his kindness, open-mindedness and his enormous energy in the professional, private and billiard sports areas will always be remembered. Gert Tiedtke was largely responsible for ensuring that the Billard-Artistique inclusion in the tournament catalog of the German championships. As a player he was able to win the national championship title in this discipline seven times, what deserves special respect, as it almost always parallels the double burden of alignment, organization and competition. His commitment is also thanks to the world and European championships in billiard artistique in Germany took place. Gert Tiedtke started playing billiards at an early age and was passionate about his nine years older brother and later world champion August Tiedtke. However led the world war, a war injury and the establishment of his company in the post-war period to a long-term interruption of his billiard sport ambitions. It wasn't until the 1960s / 1970s that he found time for sport again and became In these years multiple German three-cushion team champion with the Cologne BC. In 1978 he crowned his three-cushion career with the German individual championship, by asserting himself against the high favorite Dieter Müller. His size at the same time, however, his passion was always the billiard artistique discipline, which he in Germany helped achieve a breakthrough. Here, too, he collected several titles and was at many international world and European championships. Up until the last few years he still used the cue, but not anymore competitively, but at his billiards at home he insisted on it moving balls, even if physical condition and state of health are only ever for a few minutes were enough. Gert Tiedtke will remain unforgettable, not only with his family and his friends, including German and international carom players. Many of the former greats he has survived, also many younger ones will remember him too.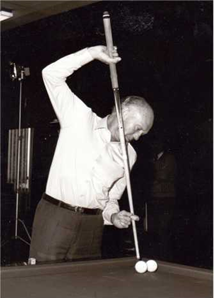 Vor drei Wochen verstarb in Bendorf im Alter von 98 Jahren Gert Tiedtke, einer der
letzten großen Pioniere des deutschen Carambol-Billardsports.
Unser Mitgefühl gilt seiner Familie und seinen Freunden, für die seine
Liebenswürdigkeit, Aufgeschlossenheit und seine enorme Energie im beruflichen,
privaten und auch billardsportlichen Bereich immer in Erinnerung bleiben.
Gert Tiedtke war maßgeblich dafür verantwortlich, dass das Billard-Artistique die
Aufnahme in den Turnierkatalog der Deutschen Meisterschaften fand. Als Spieler
konnte er siebenmal den nationalen Meistertitel in dieser Disziplin erringen, was
besondere Hochachtung verdient, da er fast immer parallel der Doppelbelastung von
Ausrichtung, Organisation und Wettkampf ausgesetzt war. Seinem Engagement ist
es auch zu verdanken, dass Welt- und Europameisterschaften im Billard-Artistique in
Deutschland stattfanden.
Gert Tiedtke begann früh als Jugendlicher mit dem Billardspielen und eiferte seinem
neun Jahre älteren Bruder und späteren Weltmeister August Tiedtke nach. Allerdings
führten der Weltkrieg, eine Kriegsverletzung und der Aufbau seiner Firma in der
Nachkriegszeit zu einer langjährigen Unterbrechung seiner billardsportlichen
Ambitionen. Erst in den 60/70er Jahren fand er wieder Zeit für den Sport und wurde
in diesen Jahren mehrfacher Deutsche Dreiband-Mannschafsmeister mit dem Kölner
BC. 1978 krönte er seine Dreibandlaufbahn mit der Deutschen Einzelmeisterschaft,
indem er sich gegen den hohen Favoriten Dieter Müller durchsetzte. Seine große
Leidenschaft galt aber parallel immer der Disziplin Billard-Artistique, der er in
Deutschland zum Durchbruch verhalf. Auch hier sammelte er mehrere Titel und war
bei vielen internationalen Welt-, Europameisterschaften am Start.
Bis auf die letzten Jahre griff er immer noch zum Queue, zwar nicht mehr
wettkampfmäßig, aber auf seinem Billard zu Hause ließ er es sich nicht nehmen die
Bälle zu bewegen, auch wenn Kondition und Gesundheitszustand immer nur für
wenige Minuten reichten.
Gert Tiedtke wird unvergessen bleiben, nicht nur bei seiner Familie und seinen
Freunden, auch bei deutschen und internationalen Carambolspielern. Viele der
einstigen Größen hat er überlebt, aber auch viele jüngere werden sich weiter an ihn
erinnern.

text: Dieter Haase


Johann Scherz - Gert Tiedtke - Cees van Oosterhout - Raymond Ceulemans
links:
1st item of the players corner: 1st Tiedtke classic Artistic tournament
Players corner index
German Championships overview