Raymond STEYLAERTS

03.04.1933 - 06.01.2011
We were sorry to inform you that Raymond Steylaerts just passed away the age of 77.
Raymond has been one of the most charismatic players of all the times.
He delighted his sport with his own light, by his own characteristics with lots of enthusiasm.
He is known for his exquisite technique and, over everything, his great sportsmanship.
In his extensive palmarés the most important specialties were many titles of "Champion Belgique",
mainly in his specialty: billiard artistic, but also threecushion.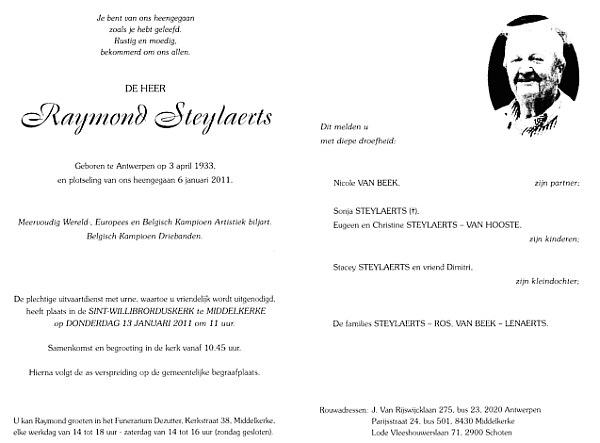 Palmares Billiard Artistic:
European Champion 1954 in Madrid / E (in the age of 21!)
European Champion 1955 in Paris / F
European Champion 1956 in Madrid / E
European Champion 1957 in Saarbrücken / GER
European Champion 1959 in Madrid / E
European Champion 1961 in San Sebastian / E
European Champion 1962 in Murcia / E
World Champion 1970 in La Plata / Arg
European Champion 1973 in St.Vincent / I
European Champion 1975 in Dortmund / GER
European Champion 1975 in Amersfoort / NL
European Champion 1977 in Bruxelles / B
European Champion 1978 in St.Maur / F
World Champion 1979 in Den Haag / NL
World Champion 1980 in Maubeuge / F
European Champion 1982 in Sant Boi de Llobregat / E
European Champion 1983 in Linz / A
World Champion 1984 in Heeswijk-Dinther / NL
World Champion 1986 in Acapulco / Mex
World Champion 1987 in Mönchengladbach / GER
Between 1952 and 1996:
27-times Belgium Champion in Billiard Artistic
Palmares Three-Cushion:
3rd of the European Championships 1957 in Antwerp / B
3rd of the European Championships 1963 in Bruxelles / B
3rd of the European Championships 1964 in Copenhagen / DK
2nd of the World Championships 1964 in Oostende / B
2nd of the European Championships 1981 in Vienna / A
and 2-times Belgium Champion